Chat Broadcaster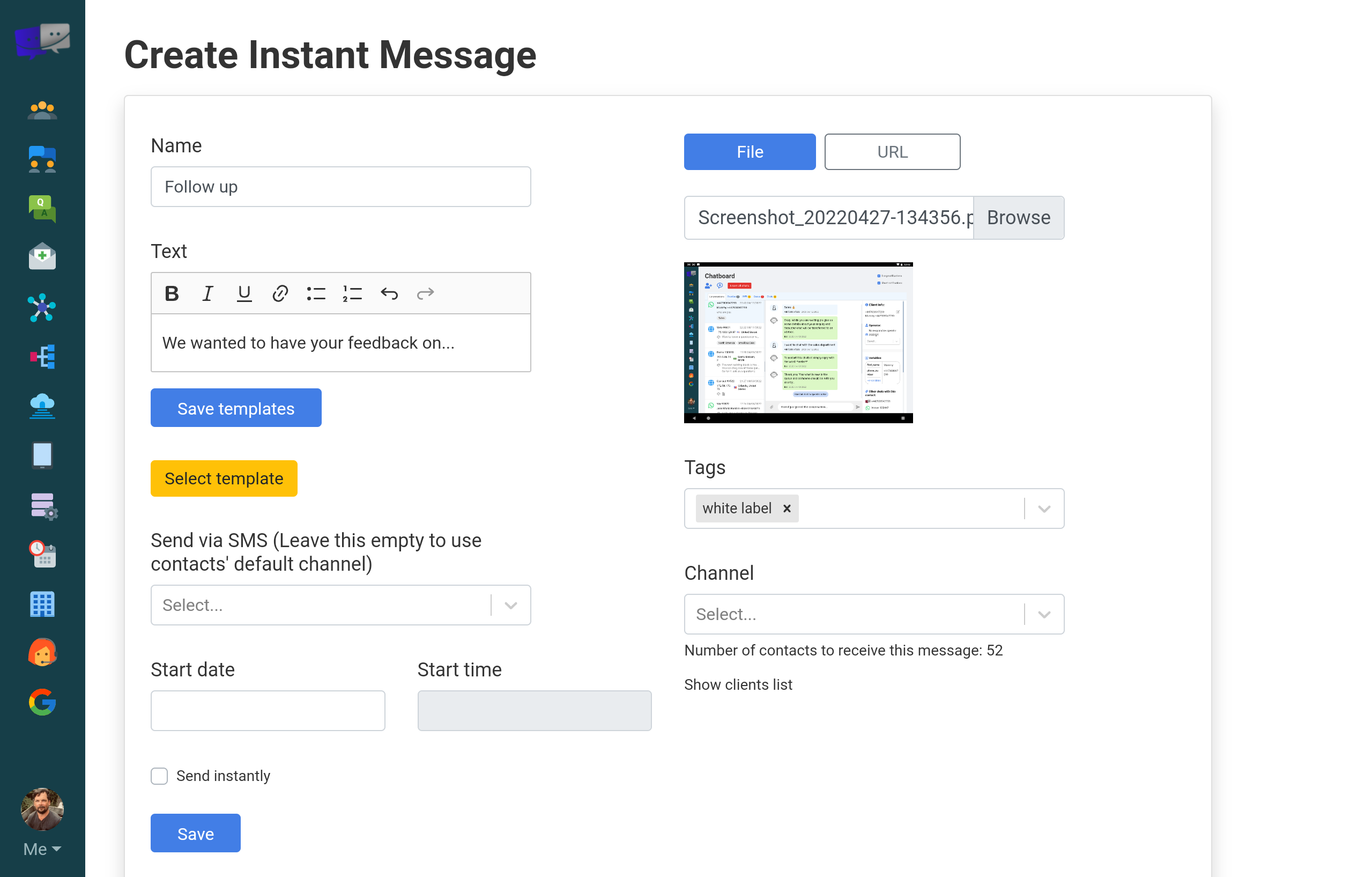 SEND CHATBOT CAMPAIGNS
Multichannel Chat marketing
Cold calling used to work for sales and marketing right up until people picked up their phones from unsaved numbers.
Email campaigning was even better but now there is chat and chat has become the ultimate winner as the preferred communication channel for businesses and consumers alike!
Whether your preferred chat channel is SMS, WhatsApp or FB Messenger etc... You can use Promptchat's Instant Messenger to send single or mass messages including chatbots to your SMS, WhatsApp, FB Messenger, Viber and Telegram contacts. Now with WhatsApp Official Business Api templated message support.
Time Scheduled chat campaigns
Schedule chat blasts that are based on calendar dates and happen based on the recipient's time zone.
Broadcast WhatsApp campaigns
WhatsApp is the most popular messaging platform and your customers most likely already actively use WhatsApp on their phones. You can send product announcements and transactional updates via one on one messaging or build WhatsApp chatbots and blast to all your relevant contacts. Take over any WhatsApp chatbot conversation in real-time with Promptchat's powerful "live take over" function. Take advantage of Promptchat's Team inbox for tagging your WhatsApp contacts and send WhatsApp chatbot campaigns based on tags.
Broadcast FB Messenger campaigns
Is your business popular on Facebook with many contacts? Send FB Messenger one on one messages or entire campaigns via Promptchat broadcaster for FB Messenger. Take over FB Messenger chatbot conversations in real-time using Promptchat's "live take over" function to further personalize conversations. Use tags from Promptchat's team inbox and send campaigns only to relevant recipients who were tagged similarly.
Upload contacts from .csv for SMS campaigns
Build a 2 way conversational SMS chatbot, upload your contacts from .csv and use variables to make them more user friendly. Use tags from Promptchat's team inbox to further personalize recipients' user experience.ipient's time zone.
Broadcast two way conversational chat campaigns to Viber and Telegram contacts too
Prompthat's universal chat broadcaster engine additionally offers support for Viber and Telegram messaging channels and more messaging channels to come based on user demand. Contact us if you're missing an integration.
Build Chatbots for any platform
Facebook
Whatsapp
Viber
Telegram
SMS chat
Webbot