Omnichannel Inbox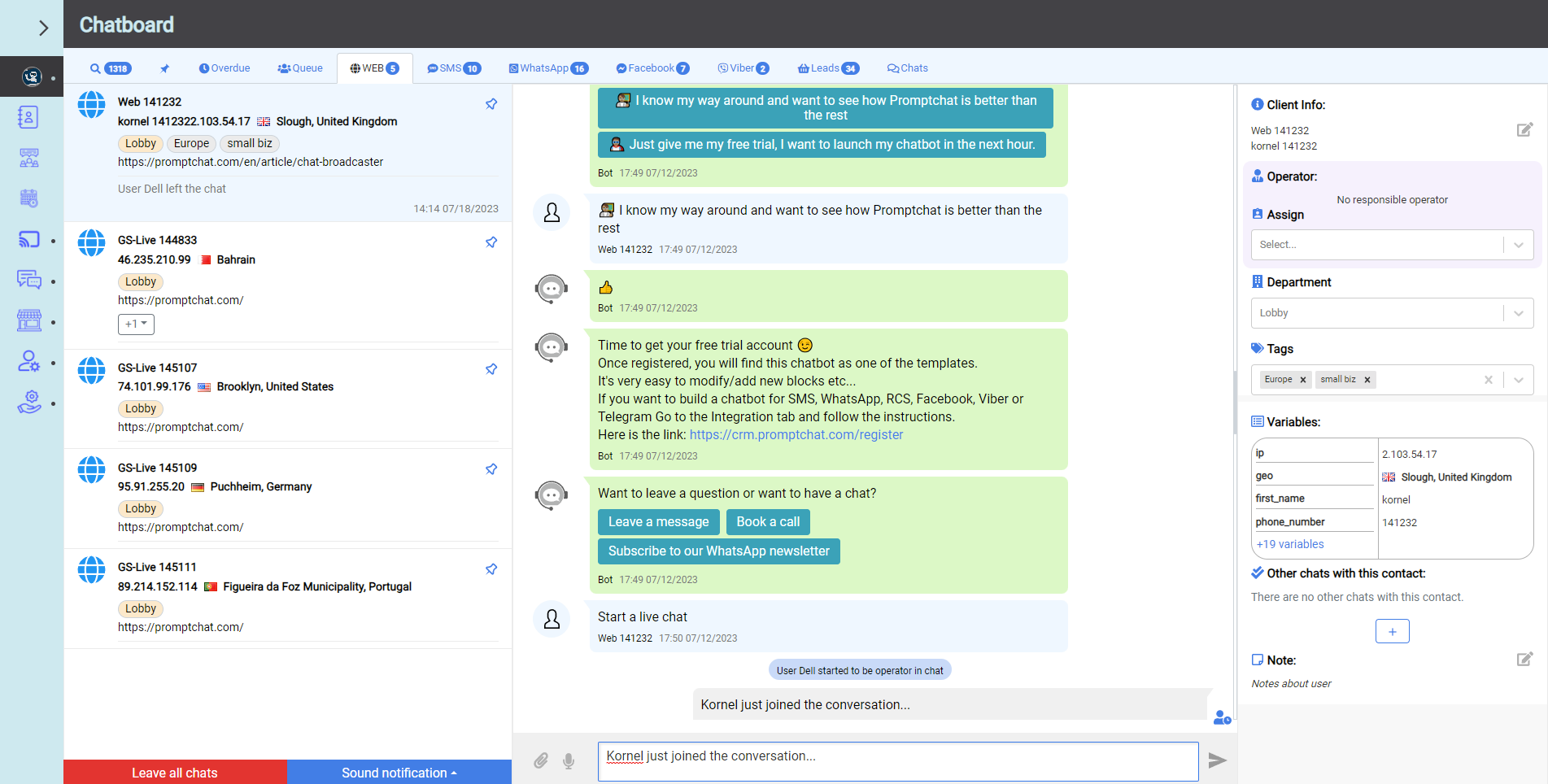 8 messaging channels managed from 1 shared team inbox
At last... Unify all your business messaging in one shared team inbox. In Promptchat™s Omnichat team inbox all chat messaging is connected and integrated to provide a seamless customer experience. Team inbox users are able to have continuing conversations with individual or bulk prospects and customers, no matter which chat channel they are using.
Multichannel Team Inbox
Promptchat™s team inbox, ie: Chatboard currently supports chat and chatbot message sending and receiving from/to: SMS, WhatsApp, FB Messenger, Instagram, Website Bot, Viber and Telegram.
Tag chats
Tag chat conversations so that you can search and remarket easily based on your tags.
Share chats
Sharing is caring! Plus helps you keep your colleagues informed at the click of a button.
Flag and assign chats
Important chats can get a flag and you can assign a chat to yourself when you wish to receive replies directly from a particular chat conversation. (Useful for sales teams)
Add notes to chats
Add notes to chat conversations so both you and your team members can sufficiently follow up.
Search and filter chats
Search chat transcripts by keyword and filter conversations per multiple tags.
Receive files sent by live chat and chatbot users
Team inbox handles incoming files from chatbot users which can be shared and tagged via the chatboard.
Departments and User privileges
Organize team members into departments and assign user privileges to team members.
Connect CRMs
Promptchat™s team inbox supports a growing number of CRMs. Contact us to get an up to date list of presently supported 3rd party platforms.
Build Chatbots for any platform
Facebook
Whatsapp
Viber
Telegram
SMS chat
Webbot