ChatGPT & Promptchat

Promptchat supports OpenAI's ChatGPT too
You can build your chatbots using Promptchat's easy to use no code drag and drop visual bot conversation flow builder alternatively integrate OpenAI's GPT4 language model.
The ChatGPT - Promptchat integration supports all integration channels so you can build chatbots not just for the web but SMS, WhatsApp, FB, Instagram, Viber and Telegram!
Try our ChatGPT chatbot on WhatsApp by sending a WhatsApp message to our AI chatbot: +44 7888 508 145
You can also chat with our GPT powered chatbot online on this page https://crm.promptchat.com/chat-page/1588/.


ChatGPT is designed to help small businesses provide superior customer experience. With Promptchat and ChatGPT you have the best of both worlds! You can provide 24/7 customer support, quickly and easily respond to customer inquiries, and create a personalized customer experience.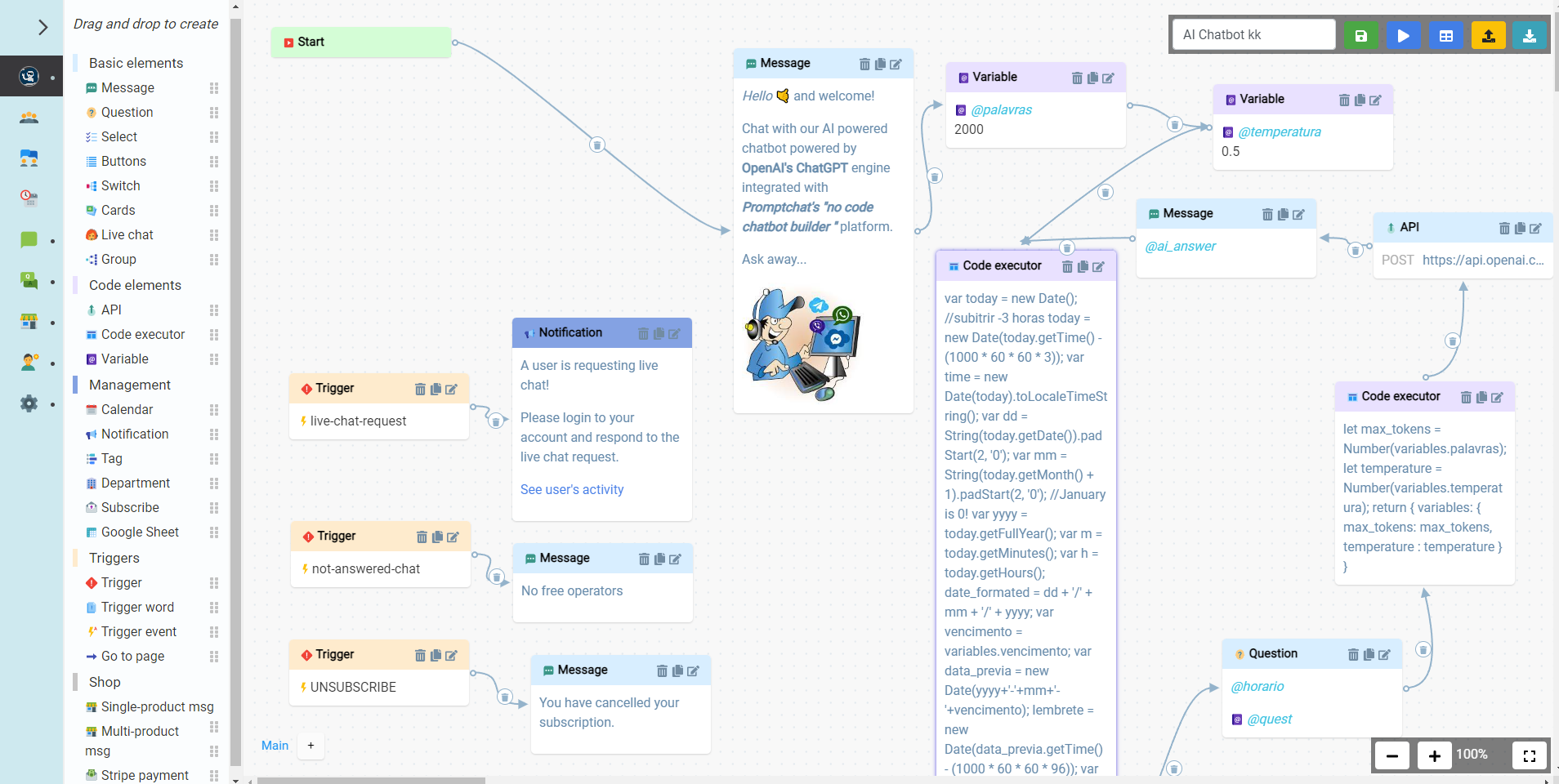 ChatGPT is powered by artificial intelligence and natural language processing, so it can quickly and accurately respond to customer inquiries. It can also provide intelligent and personalized customer service, which can help you build customer loyalty and trust.

ChatGPT is also easy to set up and use with Promptchat. You can easily integrate it within the Promptchat chatbot builder by using a ready made template and it can be customized to suit your particular needs.

Finally, ChatGPT is cost-effective and can help you save money on customer support costs. With ChatGPT, you can provide superior customer service without breaking the bank.

So, if you're a small business owner looking for an efficient and cost-effective way to provide customer support, then Promptchat's ChatGPT integration is the perfect solution for you.
Try it today and take your customer service to the next level. Submit your content and train your chatbot yourself within minutes. Go to: https://www.get.promptchat.com/
You can now perform the GPT training yourself. Contact us to test the latest version.
Build Chatbots for any platform
Facebook
Whatsapp
Viber
Telegram
SMS chat
Webbot