Chatbot builder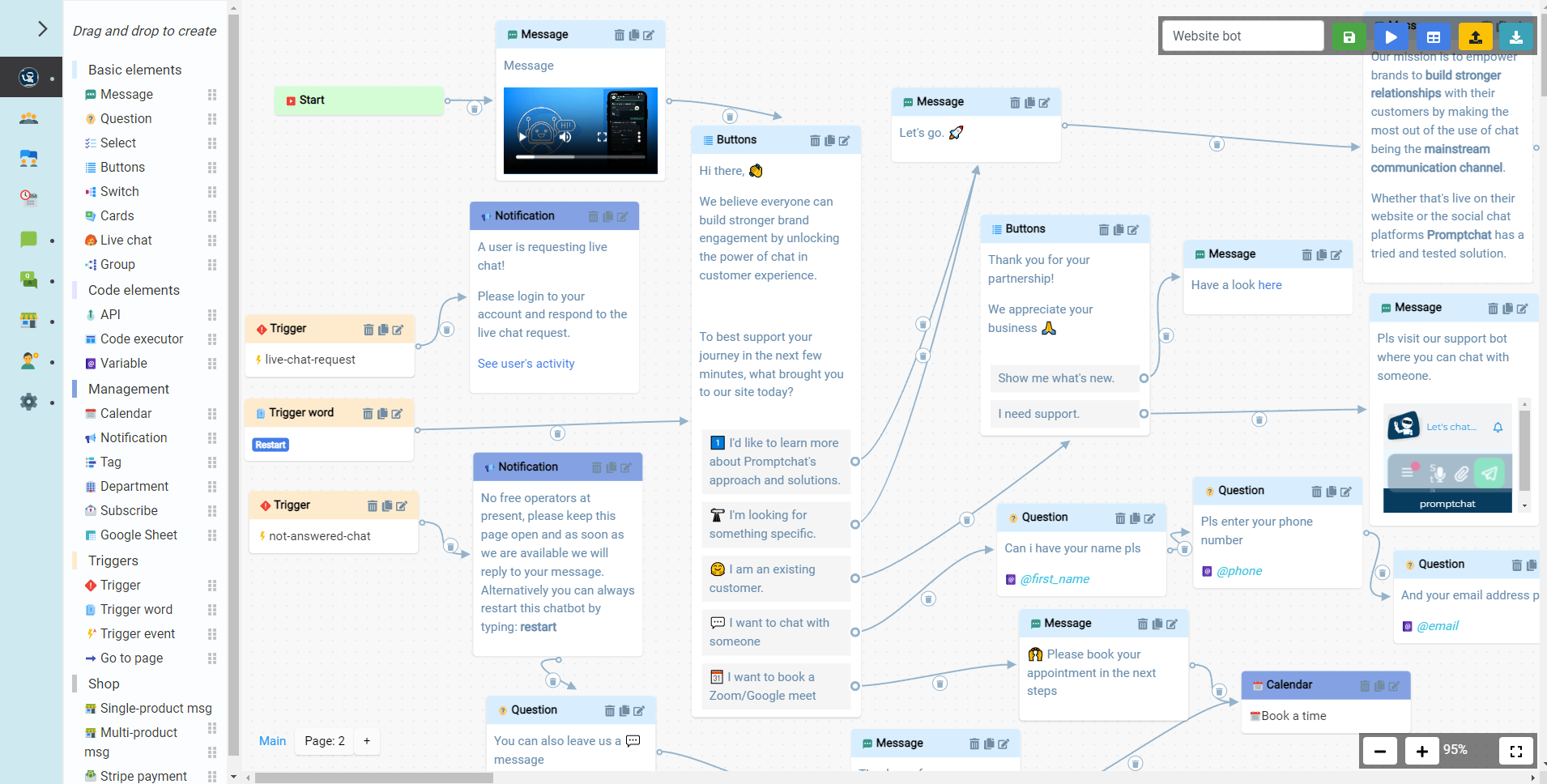 CHATBOTS CAN DRIVE SALES
GENERATE SALES LEADS FASTER
You can do a whole lot more than just answer basic FAQs and book meetings with chatbots. Did you know that you can proactively use chatbots for outbound messaging instead of waiting for customers to engage your chatbot? You can send targeted chat campaigns to a customer/prospect group via SMS, Facebook, WhatsApp, Viber and Telegram.

PREQUALIFY LEADS WITH AUTOTAGGING
Streamline the sales process and siginificantly reduce the time you spend on sales lead qualification by using the chatbot builder's auto-tagging feature. You can build a customer journey that automatically brings qualified leads based on Geo location and any other tags you create for your customer journeys.

IMPROVE CUSTOMER LOYALTY
The cost of customer interactions will not actually grow when using chatbots. Chatbot marketing will allow your teams to easily identify up-sell, cross-sell and promotional opportunities. You may want to send monthly product updates via SMS and FB Messenger and send important notifications via WhatsApp.
BUILD
Conversation flow builder
Build engaging custom chat conversation flows with a visual drag & drop editor for;
support automation
sales lead generation and qualification
conversational marketing bots
Rich Media
Endow your chatbots with images and GIFs, carousels to display products and services.
Open API
Make your chatbot intelligent using our industry leading open API with a built in visual testing module.
Trigger points
Establish trigger points throughout the bot conversation journey and take the users down a new path based on the trigger point they reach.
DESIGN
Chatbox editor (for web)
Customize the look and feel of your chatbot down to the last little detail. You can personalize all aspects of the conversation flow and get back to make changes easily.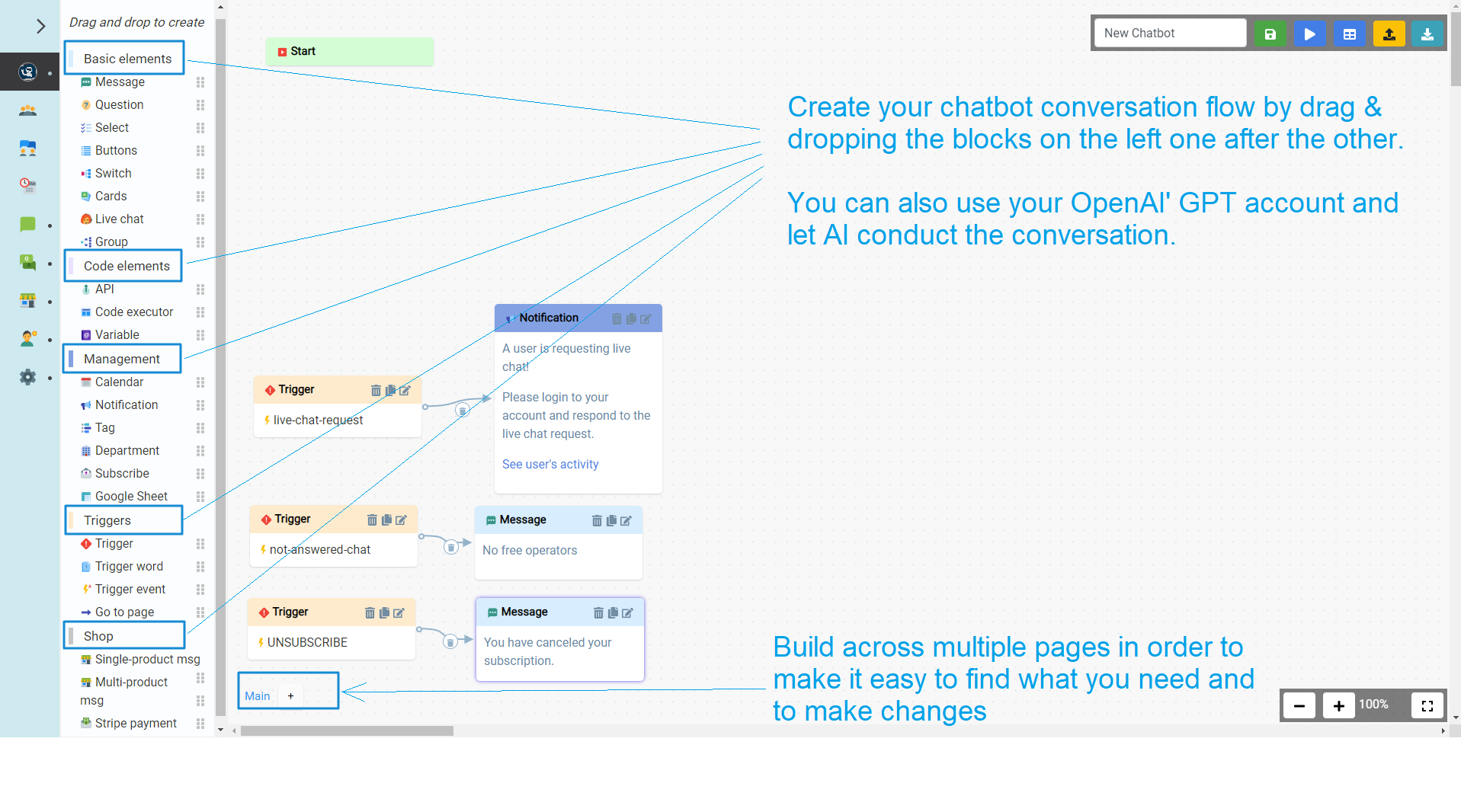 NOTIFICATIONS
Customize your alerts
Set up when, where and how you wish to receive notifications from the system. You might want to receive an SMS notification when a user requests live chat support. Or you might want to intervene with live chat when a user is browsing the price comparison block in one of your chatbots. Promptchat allows you to receive notifications by Email or SMS, you may even set your own dedicated .wav file for audio alerts.
BRING CHATBOT CONVERSATIONS ALIVE
Live take over
Monitor in real-time all chatbot conversations and take over via live chat when you think the time is right. Chatbot conversations can be on FB Messenger, WhatsApp, SMS, Viber, Telegram or on your website, Promptchat's real-time take over feature supports all platforms.
SCHEDULE MEETINGS
Calendar based event booking manager
Set up individual and/or team calendars and let the chatbot schedule meetings, interviews or call back requests based on preset opening hours and availability rules. Promptchat's calendars are time zone intelligent and you can receive new booking alerts via SMS or Email.
BOT ANALYTICS
Real-time too
Learn how your users are most engaged and where the drop off points are. Detailed usage statistics and transcripts of every chatbot session is archived indefinitely.
INTEGRATIONS
Universal and Multi-channel
Engage your users wherever they are! Promptchat's universal chatbot engine allows users to build one chatbot and post it across all popular channels including SMS, WhatsApp, FB Messenger, Viber and Telegram in addition to a website(s).
Build Chatbots for any platform
Facebook
Whatsapp
Viber
Telegram
SMS chat
Webbot