For recruitment agencies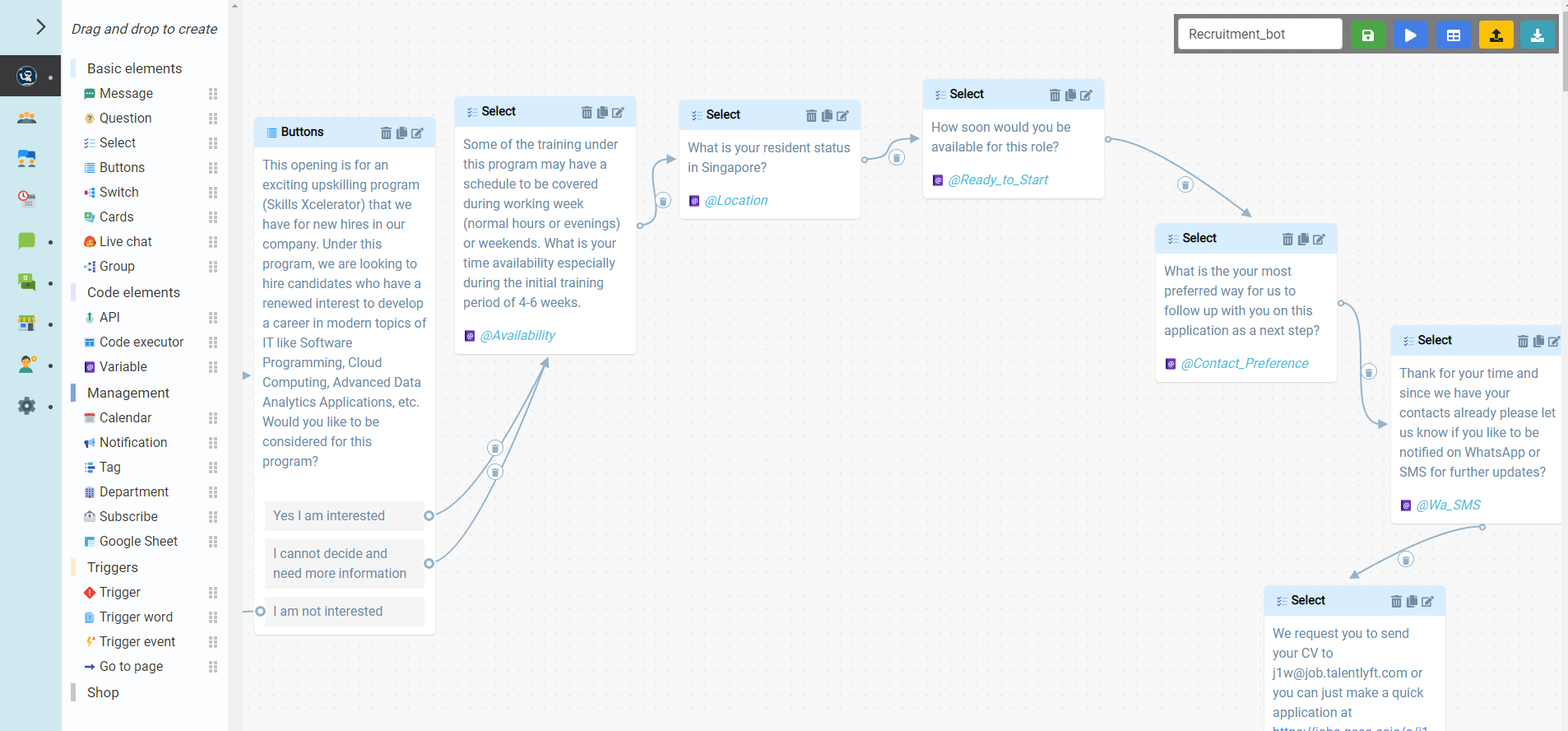 Promptchat pioneered the deployment of the first multichannel chatbots at recruitment agencies
Are you tired of spending countless hours sifting through resumes and conducting initial phone screenings for job candidates? It's time to streamline your hiring process with the help of chatbots.
Candidate screening via chatbots offers numerous benefits that can save you time, money, and headaches. Here are just a few of the benefits:
Faster Screening Process: Chatbots can quickly analyze resumes and ask candidates relevant questions, reducing the time it takes to screen candidates. This means you can move qualified candidates through the hiring process faster and fill positions sooner.
Improved Candidate Experience: Chatbots offer a convenient way for candidates to apply for a position and provide immediate feedback on their application status. This can improve the candidate experience and increase the likelihood of top talent accepting your job offer.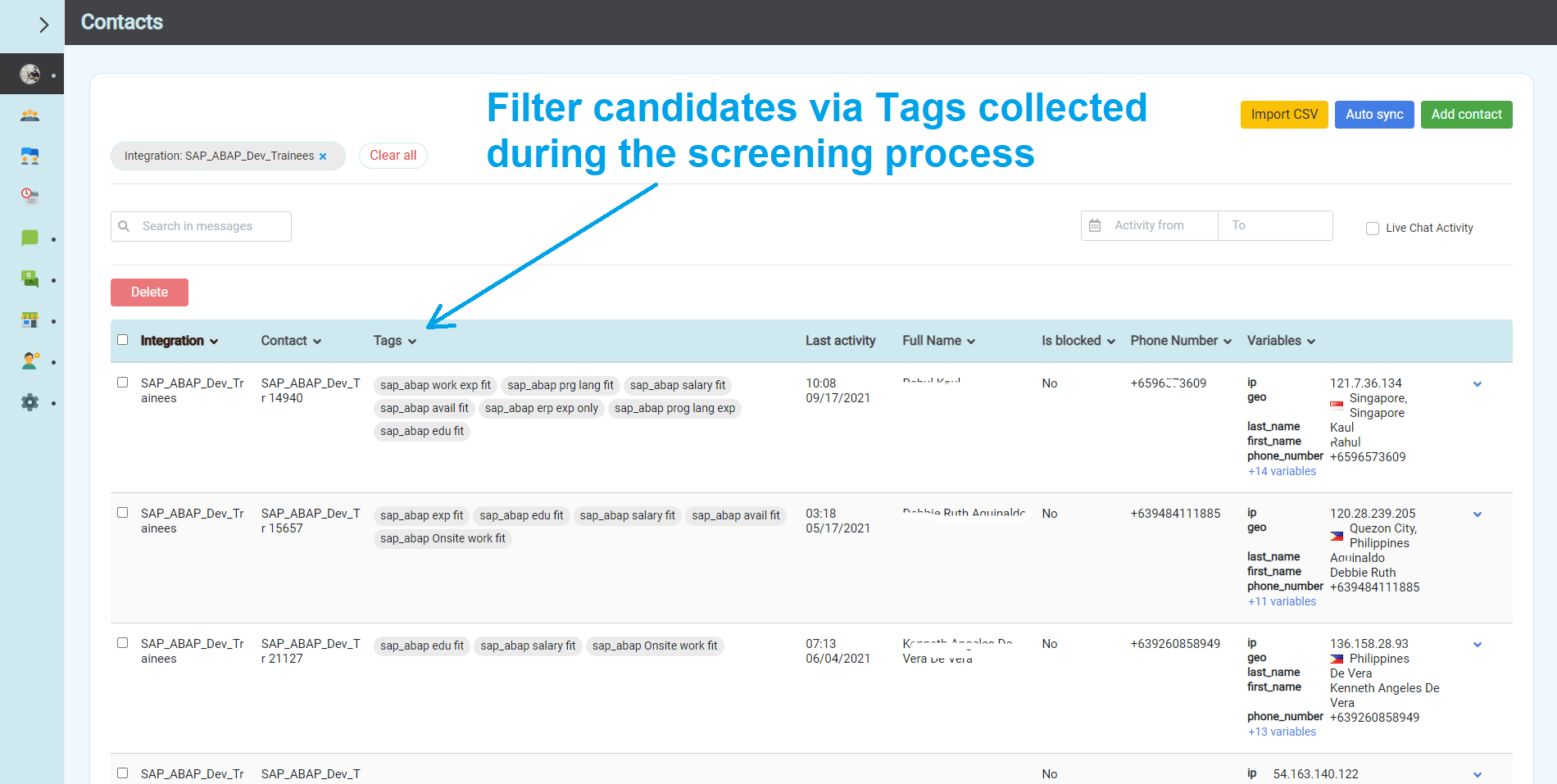 Consistent Screening: Chatbots can be programmed to ask the same questions of each candidate, ensuring that each candidate is screened consistently. This reduces the risk of bias and ensures that all candidates are evaluated based on the same criteria.
Cost Savings: Chatbots can handle large volumes of applicants, reducing the need for additional staff to conduct initial screenings. This can result in significant cost savings for your company.
Data Collection: Chatbots can collect and analyze data on candidate responses, providing valuable insights into candidate preferences, hiring trends, and more. This information can be used to improve your hiring process and attract top talent.
Don't let the hiring process bog you down. Embrace the benefits of candidate screening via chatbots and streamline your hiring process today!
Frequently asked questions
Can we use your chatbot builder to COLLECT or UPLOAD resumes by candidates?
Yes you can. Promptchat chatbots support document/resume uploads via Web, WhatsApp, Facebook Messenger, Instagram and Telegram chat channels.

If candidates cannot UPLOAD their resume then can we forward the candidate to OUR MOBILE FORM weblink where candidate will enter all details and upload the resume?
Both options are present.

Once the resume is uploaded we will have ASSESSMENT questions for 200 different types of Jobs. Can we create 200 different types of Chatbots/chat boxes and enter those questions so that when Candidate selects the particular JOB ROLE then candidate can answer those questions ie: go through the screening stages?
Yes. Once the candidates go through multiple stages of the screening chatbots, you will have a simple way to filter the results and contact the most suitable candidate(s) to call first instead of having to read all applications, CVs first.

How can we take LIVE pre-screening test of the candidate?
Take them through a live chatbot in real-time via any of the supported messaging channels. (Even via SMS)

Can we schedule and book the candidate using Calendar within the chat for a Pre-screening interview?
Yes, you can. There is a built in calendar based event booking system.

Can we broadcast messages to ALL the candidates within a campaign?
Yes, via SMS, WhatsApp, FB Messenger, Instagram, Telegram channels. These external integrations cost $15 / month per phone number. (You would only need one phone number for 1 integration channel - ie: you don't need a separate number for every advertised job role - You will just need one for your main business.)

We maintain some CAREER sites for Employers, so we will need a White label Chat server so that we can embed our chatbots for different clients. The pre-screening questions will be different for all these clients. What is the cost for hosting our own chat server?
You will need the cloud hosted chat server which cost $100 / month which allows you to put your branding on this system, ie: you become the chat provider under your (sub)domain/brand. See more on the White Label Chat Server link.

Is there a way to execute CHATBOTS without embedding them into the Website? Is there an ANDROID/iOS APP that we can install on a Tablet?
This is not available off the shelf. We can offer it as a custom development project to develop such Android/iOS apps you could host in Google PlayStore and iOS App store - it would carry a development fee and a 6-8 weeks timeframe. Otherwise, users can use the weblinks on tablets, phones which will work just fine in 99% of the cases.

Since we have over 200 JOB ROLES and each will have 20 to 30 questions, can you help us with the launch and initial management of the system rollout? Do you have resources to facilitate chatbot building services on your end? What will be the extra cost?
A question first; Will you have a superuser of the system on your side? Someone who will manage the outgoing message broadcasts, invitations to calendar meetings, filter incoming screening results? Give support to candidates via the ChatBoard? These tasks are in addition to building the screening chatbots.

There are 2 levels of service we offer to Recruitment companies:

- Superuser service; This includes 2 hours day on weekdays where an onboarding specialist works as an integral part of your team making the introduction of the system a success. /via remote desktop, MS Teams, Slack, Skype/
- Chatbot building service ($20 per chatbot) based on predesigned bot specifications we build the chatbot for you.

Some of the pre-screening questions for the interview we request CANDIDATES to record their answer individually for each question by turning the Camera ON and Video recording it. How can we do this in your tool?
Very simply. Promptchat supports document uploads to the Chatbot as well as Video playback via the ChatBoard.

Right now you can associate 1 CHATBOT to the Website, is there a way to run 6 CHATBOXES on 1 website. Sometimes our candidates have to pass through at least 6 different pre-screening stages for a specific role so I was thinking of an easier way for candidates to have 6 chat boxes on 1 website?
You can run as many chatbots as you like on a single website. You can even give a link to a screening chatbot to the recruiter so they post it on their website (it will lead back to your chatbot).
We call this type of implementation: "Chatbot landing pages" Look at these 2x different chatbots on the Promptchat domain:
https://crm.promptchat.com/chat-page/76 (this will autostart upon visit)
and
https://crm.promptchat.com/chat-page/62 (you have to Start this chatbot by clicking the Start button)
Build Chatbots for any platform
Facebook
Whatsapp
Viber
Telegram
SMS chat
Webbot